Porsche Approved 
Certified Pre-Owned
Procure Your Porsche Approved Certified Pre-Owned Vehicle
Are you seeking a vehicle that's Porsche Approved? This grade of labeling is in place only for pre-owned Porsche vehicles that meet the high-quality standards of the Porsche brand. With this, you can broaden your vehicle-buying options by adding a Porsche Approved vehicle to your repertoire.
The Porsche Approved Distinction
Porsche Approved vehicles are inspected by factory-trained technicians who conduct a mechanical- and cosmetic-based 100+ point inspection. Repairs adhere to the strict Porsche quality criteria. The Porsche Approved Certified Pre-Owned program comprises two distinct limited warranty coverages. 
The limited warranty covers 6 years with unlimited mileage, so long as the vehicle is still under the new car limited warranty. 
The limited warranty covers 2 years from the date of sale with unlimited mileage. 
Quality is Paramount
With a Porsche Approved vehicle, you can expect the driving pleasure, quality, safety and stability of value that you would get in an all-new Porsche. You're gaining a thoroughbred sports car with unparalleled charm.
More than 70% of all Porsche vehicles ever built are still on the road today. This record speaks for itself. To give you maximum security when buying a Porsche, all vehicles within the Porsche Approved Certified Pre-Owned program must pass a demanding quality inspection. An obligatory checklist with over 100 quality criteria is used for this purpose. This way, you can rest assured that your pre-owned Porsche is in perfect condition, both technically and aesthetically.
Warranty Information
The Porsche Approved warranty seeks to provide you with a feeling of security and reassuring certainty. In case of a problem, the comprehensive warranty covers 100% of the costs for material and labor. Customers of the Porsche Approved Certified Pre-Owned program do not pay an excess. Additionally, Porsche Cars NA will repair or replace any faulty factory-installed part with new or remanufactured parts.
Engine
Fuel/Cooling system
Powertrain/Transmission
Suspension/Steering
Brake system
Heating/Air conditioning
Electrical systems
Body
Comfort electronics
Emission Control Systems and Corrosion (refer to the Emission Control and Corrosion Limited Warranties in the New Vehicle Limited Warranty Manual) 
Batteries damaged from storage, lack of normal vehicle use, or non-Porsche Approved electrical or accessory installation
Tires damaged by road hazard (if you need further assistance, contact your authorized Porsche automobile dealer) 
Tires damaged by premature wear
Parts that fail due to lack of required maintenance or use of non-Porsche Cars NA distributed parts
Normal wear and tear or deterioration of any part
Cleaning and polishing
Contamination of fuels, lubricants, or other fluids
Lubricants, unless part of a warranty repair
Air conditioner refrigerant charge unless part of a warranty repair
Glass breakage, chips and/or scratches that are not due to a defect in material or workmanship
Appearance items that are not due to a defect in material or workmanship
Any car registered or normally driven outside of the United States and Canada
The replacement of expendable maintenance items (such as spark plugs, filters, worn wiper blades, worn brakes, worn clutches or worn tires) when the replacement is not due to a defect in material or workmanship
The adding of any fluids unless they are needed as part of a warranty repair
Any car with an odometer that has been altered so that the actual mileage cannot be determined
Vehicles with total loss or salvage titles
Modifications not authorized by Porsche Cars NA or its authorized dealers
Service adjustments (such as idle speed, air/fuel mixture, brake, clutch, headlight or drive belts) 
Improper repairs by someone other than Porsche Cars NA or its authorized dealers
Abuse, accident, acts of God, competition, racing or track use or other events beyond the control of Porsche Cars NA Components and/or parts that failed during racing or driving events (including Porsche sponsored events)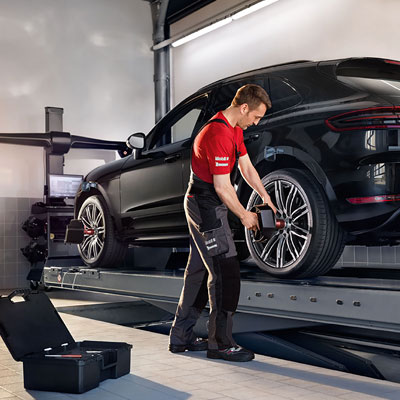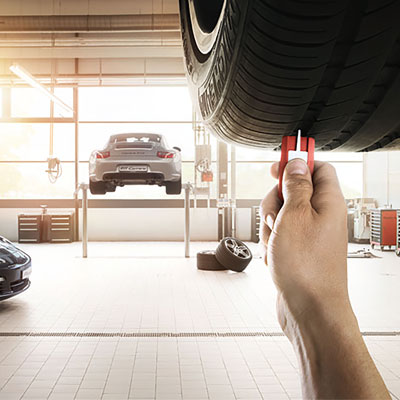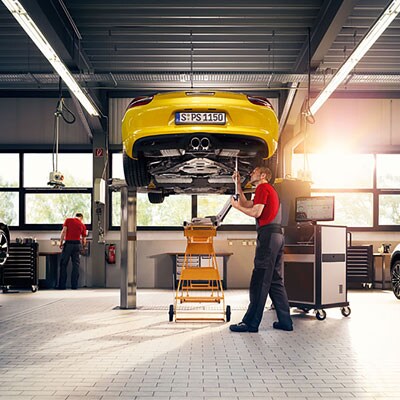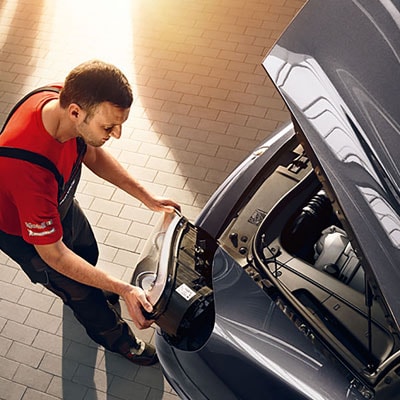 With the purchase or lease of each Porsche Approved vehicle, the owner will receive the advantages of the Porsche 24-Hour Roadside Assistance program for the duration of the Porsche Approved Limited Warranty coverage.
The benefits and services of the Porsche 24-Hour Roadside Assistance program in the US are provided by the American Automobile Association. Call 1 (800) PORSCHE / (Option 1: US; Option 2: Canada). This is the only number you need to know to receive the services and benefits of the Porsche 24-Hour Roadside Assistance program, 24 hours a day, 365 days a year, anywhere in the United States or Canada.
Battery Jump Start 
If your Porsche won't start, we will send an authorized servicer to "jump start" your vehicle. If your Porsche can't be started, an authorized servicer will provide towing service subject to the Emergency Towing guidelines. 
Flat Tire Service 
Should you encounter a situation that causes damage to a tire rendering the vehicle inoperable, the proper towing equipment will be dispatched to assist. Depending on your vehicle's tire/wheel specifications, it could be necessary to transport the vehicle to the nearest Porsche dealership for service. The cost to install a new tire onto the wheel or the second service call to return a repaired tire to the disabled vehicle are not part of the Porsche 24-hour Roadside Assistance program. 
Emergency Fuel Delivery 
Should you happen to run out of fuel, Porsche 24-Hour Roadside Assistance will provide enough fuel to get you to the nearest gas station. Both the delivery service and the fuel are complimentary.
Lockout Service 
Due to the unique engineering of your Porsche, gaining access to a vehicle without the vehicle key could cause damage. Should a key be locked within the vehicle, please contact your Porsche dealership or Porsche 24-hour Roadside Assistance so that arrangements can be made for you to obtain your spare key or transport your Porsche to the nearest Porsche dealership. 
Replacement Keys 
If your ignition key is lost, broken or accidentally locked in your vehicle, replacement keys must be obtained through the nearest Porsche dealership and could take up to 48 hours to obtain. Replacement keys obtained through any other source will not start the vehicle. The cost for parts and/or labor to produce replacement keys are not included as part of the Porsche 24-hour Roadside Assistance program. 
Extrication/Winch Service 
Service will be provided to extract your Porsche from mud, sand, snow or a ditch, provided that the vehicle is in an area immediately adjacent to a regularly traveled road that can be serviced with standard servicing equipment. 
Trip Interruption 
Should your Porsche become disabled more than 100 miles (US)/160 kilometers (Canada) from your residence due to a warrantable mechanical failure, you may be eligible for reimbursement of trip interruption expenses. This includes situations where the vehicle cannot be started or driven without causing damage and the local Porsche dealership is not able to repair the problem the same day. Trip interruption coverage includes reimbursement for: 
Meals
Lodging
Car rental
Alternate transportation
Reuniting (returning your Porsche to your work or residence)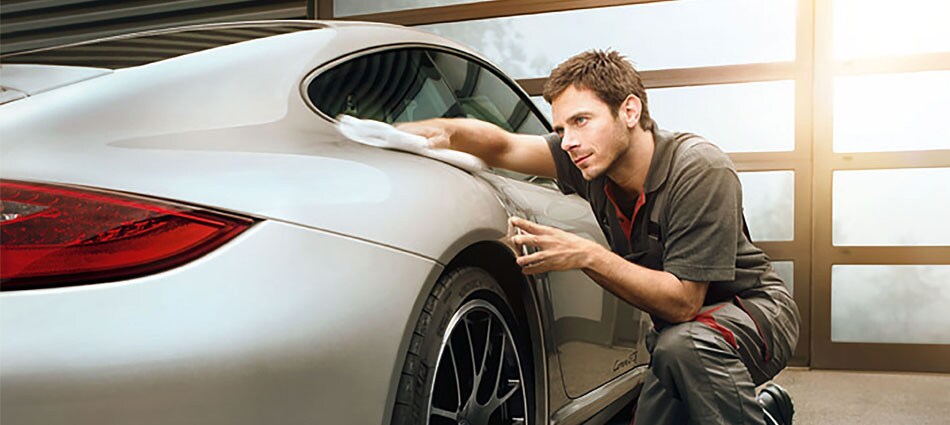 As an alternative to a hire car, travel expenses from the site of the incident to your place of residence or destination (including return journey) or the homeward journey and return transportation of your repaired car to your place of residence are paid for.
Vehicle transport to place of residence and, if necessary, payment of hotel accommodation will be in place if the onward journey is not possible due to illness, injury or similar causes.
Expenses for return transport from abroad in case of illness for driver and/or passenger, as well as additional expenses for overnight accommodation caused by the illness, can be paid for the affected persons.
We can assume travel expenses for minors to be picked up from abroad by an accompanying person.
We can assume costs (travel and accommodation) for one visit to hospitalized person by a family member, provided that you or your passengers must remain hospitalized for longer than 14 days.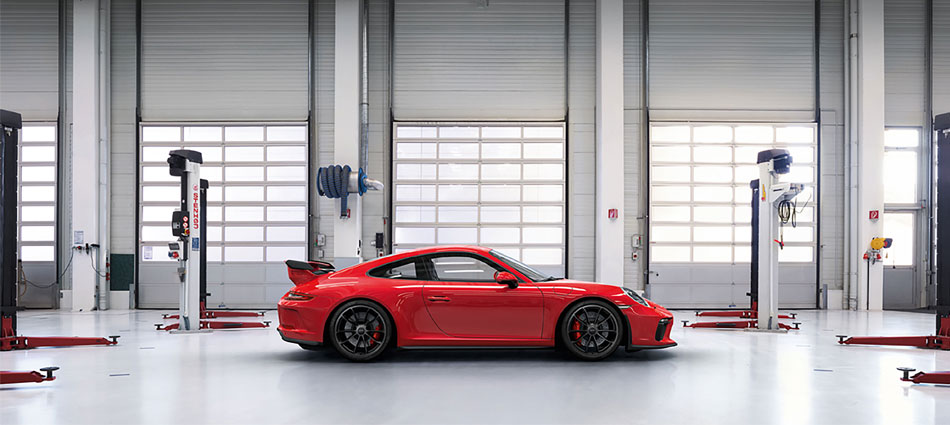 .










FAQ
Why should I buy a pre-owned Porsche from a Porsche dealer? 
Nobody knows these cars better! Each vehicle is given a 100+-point inspection by trained Porsche technicians and backed with a limited warranty, roadside assistance and attractive financing. Porsche Approved Certified Pre-Owned vehicles are only available from an authorized Porsche dealer. For peace of mind at a price that might surprise you, see your authorized Porsche dealer or visit Porsche.com to search for your vehicle. 
Are all pre-owned Porsche vehicles suitable for the Porsche Approved Certified Pre-Owned Program? 
Vehicles eligible for inclusion may be current model year and be no older than eight years old from the original in-service date with less than 100,000 accumulated miles. In addition, the vehicle must pass a stringent 100+ point inspection conducted by our authorized Porsche dealerships. This program excludes Carrera GT. 
Where can I buy Porsche Approved Pre-Owned vehicles? 
Porsche Approved Certified Pre-Owned cars are available from any authorized Porsche dealer. 
Where can I learn more about Porsche Approved? 
Learn more at your authorized Porsche dealership or download the warranty brochure.
Can I transfer the warranty? 
Should you wish to sell your Porsche, you will also benefit from the Pre-owned Porsche Warranty. The remaining warranty is transferred to the new owner. This will undoubtedly increase the value of your vehicle. 
Terms and Conditions
Once the covered vehicle is traded or sold to any non-authorized dealer or commercial broker, this warranty is void. If your car is taken to an authorized Porsche automobile dealer outside the U.S. or Canada, the Porsche Cars NA warranty will not be applicable, and faulty parts will be repaired or replaced only within the terms and limitations of the warranty for Porsche Approved vehicles in effect in the country where such authorized Porsche automobile dealers are located. A vehicle which is imported by an individual into Canada must comply with all Canadian Governmental requirements. 
Learn More About The Certified Pre-Owned Warranty at Porsche West Houston